All the ballistics from all manufacturers, finally... in one place.
Kimber Solo®
The Kimber legacy of offering the finest production firearms available today continues with the Solo®, a new pistol that puts the power of the 9 mm cartridge in a micro-compact size usually reserved for smaller calibers. Power aside, what really sets the Solo apart is quality, dependability and 1911 ergonomics that ensure comfortable shootability regardless of hand size. This all comes together to put Solo performance in a class by itself.
Ruger American Rifle

The 100% American-made, Ruger American Rifle™ is the latest engineering innovation from America's leading firearms manufacturer. Offered in short- and long-action calibers, the Ruger American Rifle combines the rugged reliability of Ruger's past with the award-winning ingenuity featured in so many of Ruger's new products.


Sig Sauer P290
THE P290 SUB-COMPACT 9MM, is our newest and most innovative and versatile polymer pistol. Designed to be the ultimate in conceal carry. This unique 9mm pistol is the perfect small defense handgun that meets the demands of today's law enforcement professionals as a backup duty gun, and responsible citizens as a conceal carry gun. The removable grip plates allow for customization with aluminum, wood, and polymer and can be engraved with your initials for a true customized pistol.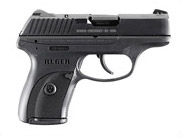 Ruger LC9
The LC9 is a double-action-only, hammer-fired, locked-breech pistol with a smooth trigger pull. Control and confident handling of the Ruger LC9 are accomplished through reduced recoil and aggressive frame checkering for a positive grip in all conditions. The Ruger LC9 features smooth "melted" edges for ease of holstering, carrying and drawing.
Px4 Storm Type F Sub-Compact
The Beretta Px4 Storm Sub-Compact pistol is the most advanced sub-compact sidearm of its kind.
Built around Beretta's latest Px4 modular technology, the Px4 Storm Sub-Compact delivers concealed carry handling with large frame firepower.
Available in two calibers (9mm and .40 S&W), the Px4 Storm Sub- Compact uses a very reliable locked breech and tilt barrel system, providing a more compact and lighter weight system.
A stainless steel barrel requires less maintenance and is corrosion resistant, perfectly suited for concealment close to active, perspiring bodies.
The pistol adapts to different hand sizes easily with interchangeable backstraps (included).
American Classic 1911
True Mil-Spec 1911. The American Classic line comes in 4 models. 1911-A1, American Classic II, Trophy and Commander. They offer all the features of custom pistols at a factory affordable price. American Classic 1911's are a tremendous value.
Smith & Wesson MP15
The new M&P15-22 is a dedicated M&P15-format rifle designed and built as a true .22 LR semi-auto from the ground up, with all the standard operating features and accessory specifications of a modern-version centerfire M&P15 rifle.

Kimber Ultra Raptor II
The Stainless Ultra Raptor II .45 ACP features a 3-inch barrel and light weight aluminum frame, making it ideal for concealed carry. The Stainless Ultra Raptor II .45 ACP and the Stainless Pro Raptor II .45 ACP from the Kimber Custom Shop have a striking appearance. Both feature a stainless steel slide, night sights, ambidextrous thumb safety and zebra wood grips. Built for the U.S.A.
Micro Desert Eagle
The Micro Desert Eagle pistol from Magnum Research chambered in .380ACP is a true compact personal protection pistol. Weighing in at less than 14 oz., the Micro Eagle is comfortable at home, in a pocket or in a purse. The Micro Eagle features our gas assisted blowback system for ultimate reliability and amazing accuracy.
Finely crafted in the U.S., the DAO Micro Eagle pistol is the ultimate in a safety and compact personal protection.
The Micro Eagle comes with one 6-round magazine so don't forget to order that extra magazine or two and a holster!
Beretta 90two Type F, G
The revolutionary Beretta 90two pistol introduces new improvements to form, fit and function while maintaining the integrity and reputation of its predecessor, the legendary Beretta 92/96 Series. Featuring a technopolymer removable single-piece wraparound grip in two sizes (standard and slim), increased magazine capacity, internal recoil buffer (softer shooting, less felt recoil), captive recoil spring guide assembly and quick assembly feature, the 90two has evolved to individually fit the hand of each operator, while maintaining accuracy and reliability.
Sig Sauer P250 2SUM
You can now get complete out-of-the-box versatility with the SIG SAUER P250 2SUM. This offer provides you with a full-size P250, ideal for duty, home defense or sport, and all the components to rapidly convert it to the P250 Subcompact, a perfect conceal carry gun.

Copyright 2009 | Ballistics101.com | All rights reserved