All the ballistics from all manufacturers, finally... in one place.
all solicitations will be printed and used for targets.

link exchange policy
If you would like to exchange links with us, please contact the webmaster and place the linking code below on your site before requesting exchange. YOU MUST USE OUR LINKING CODE. DO NOT TAKE THE IMAGES AND CREATE YOUR OWN. Send us the link to where it can be viewed and your linking code. Upon approval, your link will be added within 2 working days.
Please note, we only exchange links with relative sites that would interest our readers.

text link
Handgun & Rifle Ballistic Charts
Complete ammunition ballistics charts. Compare ammunition from all manufacturers on one easy chart, sorted by caliber.
<p><a href="http://www.ballistics101.com" target="_blank"><strong>Handgun &amp; Rifle Ballistic Charts<br /></strong></a>Complete ammunition ballistics charts. Compare ammunition from all manufacturers on one easy chart, sorted by caliber.</p>

banners
728 x 90

<p><a href="http://www.ballistics101.com" target="_blank"><img src="http://www.ballistics101.com/images/b101banners/ballistics101_728x90_banner1.gif" alt="Ballistics101.com banner" width="728" height="90" border="0" /></a></p>

250 x 250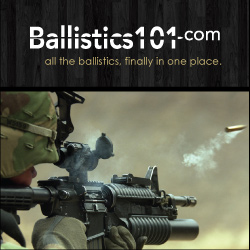 <p><a href="http://www.ballistics101.com" target="_blank"><img src="http://www.ballistics101.com/images/b101banners/ballistics101-banner-250x250.jpg" alt="Ballistics101.com banner" width="250" height="250" border="0" /></a></p>

Copyright 2009 | Ballistics101.com | All rights reserved