pistols | best bang for your buck under 600

We have not been paid to promote these guns, they simply worked well for us, and we feel confident about recommending them to you. Our goal is to help you find a decent firearm for a great price. Listed in no particular order, all have great reputations.
Caracal Firearms | price $415.00 +/-
This is the firearm to keep your eyes on. Caracal and development team was led by the Austrian firearms designer Wilhelm Bubits who previously brought us the Glock and Steyr M pistols. The Caracal is a semi-automatic pistol chambered for .40SW or 9mm caliber ammunitions. The gun features tactical rail and boasts unique features such as a short trigger pull, extremely low profile slide and bore axis, the combined effect of which is greatly reduced "felt" recoil. The weapon is capable of carrying exchangeable sights.
We had a chance to fondle the full size Caracal F and compact Caracal C at Shot show. Everyone we spoke with agreed that Glock will need to rethink the meaning of perfection.
Bersa BP9CC| price $400.00 +/-
These are great little guns. They are about the same size as the Smith & Wesson M&P Shield, and also have a single stack magazine for a slim grip and frame. Not only are these reliable and accurate, this compact pistol has an exceptional short-reset trigger. Among if not, the best of any striker fired pistol to date. These are worth a look. Jeff Quinn does a great review here.
CZ 75 Series| price $525.00 +/-
Probably the best 9mm platform ever. The CZ 75 is known to be reliable, accurate and a damn good shooter. There are many CZ guns that utilize the CZ 75 platform, from the fullsize to compact to the sub compact RAMI. Any of of these are a fine choice. Pictured here is my favorite, the PCR-D model.
Sig P250 2Sum| price $650.00
This one is slightly more than the 600 dollar marker, but it is essentially two guns. The 2 sum offer provides you with a full-size P250, ideal for duty, home defense or sport, and all the components to rapidly convert it to the P250 Subcompact, a perfect conceal carry gun. It is like getting 2 guns for the price of one! These can also be converted to any caliber on any frame, fullsize, compact or sub-compact by dropping in your existing fire control unit. These are great, as you use the same smooth double action trigger you are used to, in all the frames you purchase. P250 Caliber change kits come complete with frame, magazine, barrel and slide assembly. I have found them here for as little as $239.00. No need for FFL to order these kits.
Springfield 1911 GI | price $548.00
Military Spec 1911 45ACP with a forged frame, slide and barrel. Combat 3 dot sights. High hand grip. Beveled magazine well. Polished feed ramp and throated barrel. Arched mainspring housing. Stainless steel barrel. Lowered and flared ejection port. Angled slide serrations. Cocobolo hardwood grips. Loaded chamber indicator and titanium firing pin. 7 in the mag 1 in the pipe. This is a fantastic introduction to the 1911.
SIG Sauer SP2022 | price $565.00
You can read the SP2022 full review on this gun in the "Reviews" section. We feel this is the most underated Polymer pistol on the market today. It is accurate, reliable, and a quality SIG firearm. We have seen them for a little as $399.00. We highly recommend you scoop up one of these Sig Pros in any caliber. Available in 9mm, 357SIG, 40SW. Added benefit is that the latter can shoot either caliber with a simple barrel swap.
Glock | price $525.00 +/-
You will find this pistol in the holsters of Officers everywhere. The top product among the small arms of the world is without doubt the Glock "Safe Action" pistol. It employs innovative safety features which makes the pistol easy to operate. No other pistol offers a better price-performance ratio. Its minimum weight and legendary Glock reliability are unsurpassed. Glocks are available in just about every auto cartridgeout there including 10mm and 357SIG.
Springfield XD | price $470.00
The Springfield XD is a great gun, no if's and's or but's about it. We did a full Springfield XD review on this pistol. It is availible in 9mm, .40SW, .357SIG & 45ACP. We have shot the 40SW and were quite impressed with it. This Striker-fired pistol has a smooth trigger, and multiple safeties for duty carry. This gun also comes with 2 mags, holster, mag holster, mag loaded and lock. We have seen them at budsgunshop for a little as $470.00 shipped.
Kahr CW9 | price $380.00 +/-
The Kahr CW9 9mm pistol features a black polymer frame, matte stainless steel slide and standard fixed sights. This is an inexpensive option for deep concealment. Comes with one 7 round magazine. These are great pistols and very well made and the Double Action Only trigger is very good. We have seen them on sale at Turners for $369.00.
Taurus 92B | price $450.00 +/-
In 1980, Taurus purchased the Beretta factory in Sao Paulo, Brazil "lock, stock and barrel" and immediately sought to improve on the Beretta design, resulting in the popular and acclaimed Taurus 92 and 99 9mm pistols. Has a three-position frame-mounted ambidextrous safety, which is more secure than a slide mounted safety, and allows for a classic SA "cocked-and-locked" mode, as well as functioning as a DA decocking lever. These are great shooters.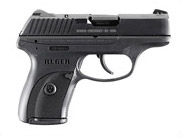 Ruger LC9 | price $289.00 +/-
The LC9 is a double-action-only, hammer-fired, locked-breech 9mm pistol with a smooth trigger pull. The controlled and confident handling of the Ruger LC9 are accomplished through reduced recoil and aggressive frame checkering for a positive grip in all conditions. The Ruger LC9 features smooth "melted" edges for ease of holstering, carrying and drawing. While it is small, the performance is big.
Micro Desert Eagle | price $406.00
Sharing all the family traits of the world-famous Desert Eagle pistol, Magnum's Micro Desert Eagle pistol, chambered in .380 ACP, is the great for personal protection. Small enough to nest comfortably in a pocket or in a purse, the double action only Micro Desert Eagle is proudly made in the U.S. and weighs less than 14 oz. But don't let its size fool you. The Micro Desert Eagle provides big-time protection with a gas-assisted blowback system for ultimate reliability and amazing accuracy.
Ruger P Series | prices 45ACP = $425.00, 9MM = $310.00
A Solid Reputation in Rugged Reliability and Durability. With a 25 year track record of reliability, durability and performance in the field, P-Series pistols are simple, economical, and serviceable. And, most importantly, these pistols can be counted on to perform in adverse conditions.
Made with either custom-compound polymer or hard-coated, aircraft-quality aluminum frames, steel slides and polymer grip panels, P-Series pistols provide years of trouble-free service and confidence. Availible in 9mm & 45ACP.
Ruger SR9/SR40 | price $450.00 +/-
The Ruger  SR series is perfectly sized to be comfortable and controllable with a slim, ergonomic grip and narrow slide. Featuring a short reach from the backstrap to the trigger, the SR9 creates a comfort level that will challenge any standard-sized, striker-fired pistol available today. The structurally rigid, recoil-reducing, glass-filled nylon frame and alloy or stainless steel slide combine to create a low-maintenance, rugged and reliable handgun. The low bore axis of the SR series make shooting and follow up shots cinch.
FN Herstal FNX | price $555.00 +/-
We absolutely love this pistol. Available in 9mm, 40 S&W the ergonomic polymer frame has a low bore axis for less felt recoil and improved control. The grip panels are checkered and ribbed for comfortable, no-snag carry. Four interchangeable backstrap inserts quickly adapt the FNX to your hand size. The profiled stainless steel slide has cocking serrations front and rear, and the 4" hammer-forged stainless steel barrel delivers pinpoint accuracy. Ambidextrous operating controls make the FNX perfect for competition or personal defense. Every FNX is made in the USA.
Beretta 92FS| price $550.00 +/-
BERETTA U.S.A. RELIABILITY AND DURABILITY STATISTICS FOR THE BERETTA 9mm PISTOL.
• The average reliability of all M9 pistols tested at Beretta U.S.A. is 17,500 rounds without a stoppage.
• During one test of twelve pistols fired at Beretta U.S.A. before Army supervision, Beretta-made M9 pistols shot 168,000 rounds without a single malfunction.
• The Beretta 9mm pistol was the most reliable of all pistols tested in the 1984 competition which resulted in the award of the M9 contract to Beretta.
• Two-thirds of all M9 pistols endurance tested at Beretta U.S.A. fired 5,000 rounds without a single mal function or, at most, with only one malfunction.
• The average durability of Beretta M9 slides is over 35,000 rounds, the point at which U.S. Army testing ceases.
• The average durability of M9 frames is over 30,000 rounds. The average durability of M9 locking blocks is 22,000 rounds.
Bersa Thunder | price $395.00 +/-
The Bersa Thunder series high capacity pistols offer custom deluxe features that shooters demand at absolutely no extra cost. Two ambidextrous safety controls. Reversible extended magazine release. Automatic firing pin safety. Ambidextrous slide release. Adjustable trigger stop. Combat style trigger. High strength steel barrel. Combat style skeletonized hammer. Link free locked breech design. Bersa has made a really good name for themselves amongst enthusiasts and are rather affordable firearms. Available in 380ACP, 9mm, 40SW, 45ACP.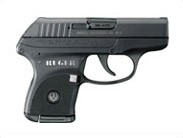 Ruger LCP | price $349.00 +/-
The Ruger® LCP® is a compact .380 Auto. From backup firearms for law enforcement to licensed carry for personal protection, the LCP is the perfect choice.
Designed with both male and female shooters in mind, the LCP is as affordable as it is reliable. At just 9.40 ounces (with an empty magazine), the LCP is lightweight and ideal for all-day carry - ensuring you have it when and where you need it, and that is what counts.
Jericho 941 | price $540.00 +/-
The Jericho 941 AKA Baby Eagle is made by IWI & is a gun built on the CZ75 platform. It is an excellect shooter and very accurate.The Jericho pistol offers the following features: High quality all steel construction, polygonal rifling for greater accuracy, longer barrel life, forward-positioned center of gravity to reduce barrel jump. Availible in 9mm, 40SW, 45ACP.
Smith & Wesson M&P | price $475.00
DAO Striker fired, reinforced polymer chassis, superior ergonomics, ambidextrous controls, proven safety features.
In the design of the M&P, Smith and Wesson considered the needs of military and law enforcement from every conceivable angle. No other polymer pistol offers this combination of versatility, durability and safety. Available in .40S&W, 9mm, 45ACP, 22LR & 357SIG.
what is your favorite pistol under 600 bucks?